Productive Postures Series : Injury Prevention & Management of the Low Back / Hip / Pelvic Floor, 10/27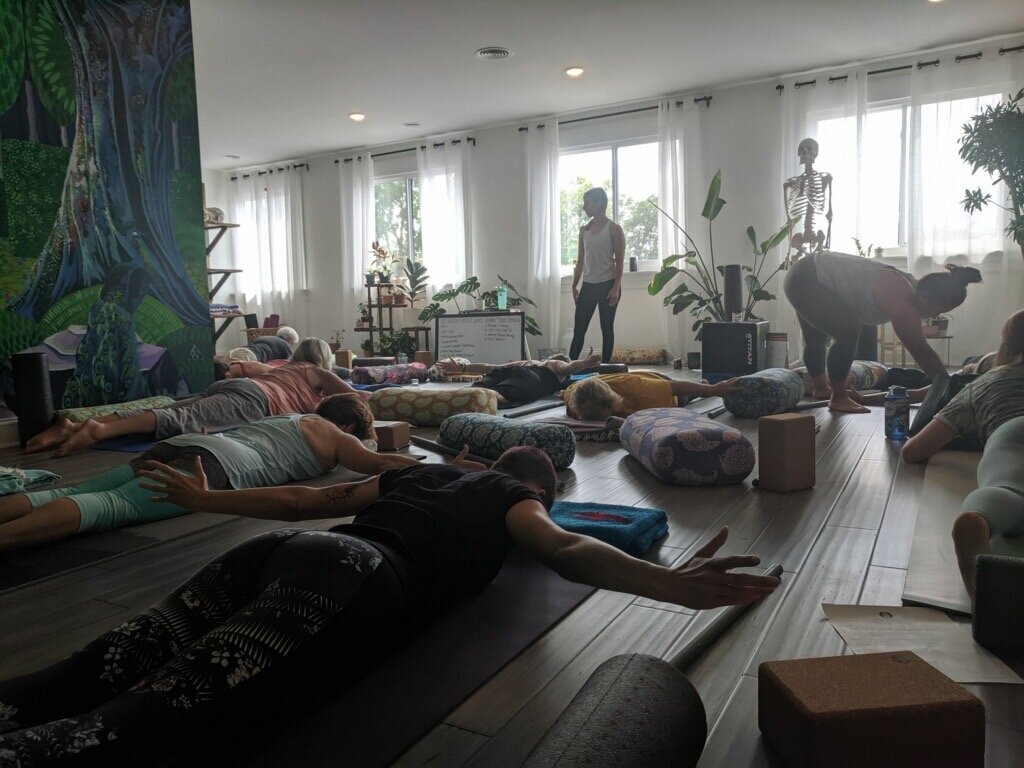 Productive Postures Series : Injury Prevention & Management of the Low Back / Hip / Pelvic Floor, 10/27
Sunday, October 27th, 1:15pm-4:15pm
$50
3 Contact Hours
This workshop is designed for yoga students and instructors of all levels. This workshop can be used as continuing education, and also counts towards Yoga Baum's 300-Hour Yoga Teacher Training.
Julie Sergent, Doctor of Physical Therapy, and Stephanie Seeley, ReIntegration Specialist, are returning to our studio to teach part II of their Productive Postures Series. This time around, attendees will learn all about the low back, hips, and pelvic floor. Attendees will learn how they all connect to create the foundation to our every move. Learn what it means to assume a neutral spine and stable core and how this alone can impact yoga practice, strength training, and even the simplest tasks like playing on the floor or carrying your little ones. This interactive workshop will leave attendees with take home strategies to prevent and manage common conditions of the low back, hip, and pelvic floor. This workshop is appropriate for anyone currently experiencing back/hip/or pelvic injury or has in the past. Dr. Julie and Stephanie will begin with the core foundations and progress through common positions we all assume both in and out of the studio. We will also explore the following topics:
Brief overview of lumbosacral, hip, and pelvic floor anatomy

Explore the signs and symptoms of the most common conditions/diagnoses of the lower back and hip

Discuss pelvic floor dysfunction, common presentation, and treatment methods including urinary stress incontinence, urge incontinence, and more

Learn how to self regulate activity to allow continued safe participation in desired activities

Explore the concepts of mobility, strength, and stability and apply each to your body's individual needs

Enhance overall body awareness and postural alignment

Preserve the health of your low back, hips, and pelvic floor

Learn ways to increase static and dynamic core strength to target low back, pelvis, and hip

Gain awareness of the do's and don'ts when it comes to acute low back and pelvic pain

How to balance external/environmental factors and occupational stressors

Sitting vs. Standing and how to create productive postures throughout our day

Brief overview of the physical therapy specialty and the Sergent Wellness model

How to recognize injury and learn steps to take if conservative treatment is warranted
Bios
Julie Sergent, PT, DPT, FDN I/II, CKTP
Julie Sergent was born and raised in Louisville, KY and earned her doctorate of physical therapy from Bellarmine University in 2008. Having worked as a physical therapist across all settings, she has a deep understanding of how every stage of injury & recovery impacts our daily life. Her passion lies in helping active adults and athletes get back to the sports and life they love while avoiding unnecessary doctor visits, injections, surgery, and imaging. Julie opened her practice in 2014, and since then Sergent Wellness has grown into a team of 3 that offers collaborative physical therapy, tailored personal training, and nutrition/lifestyle coaching.
Stephanie Seeley
Stephanie Seeley grew up on the West Coast and attended high school in Louisville. She went on to play division 1 field hockey at Robert Morris University. Stephanie is the ReIntegration Specialist at Sergent Wellness and has worked with Julie for over 2 years. With an eye for movement patterns, Stephanie supports patients through tailored personal training, nutrition, & lifestyle coaching. Together, Julie & Stephanie help patients bridge the gap between physical therapy and performance. Stephanie is a Certified Personal Trainer through the National Strength & Conditioning Association, USA Weightlifting Sport Performance Coach, Pre and Postnatal Coach, and certified as a Precision Nutrition Coach.